Certain Teed
CertainTeed, a SAINT-GOBAIN company, is a leading U.S. manufacturer of low slope and steep slope roofing products for commercial, institutional, residential roofing and waterproofing applications. CertainTeed has served the roofing industry for 100 years, establishing a solid reputation for quality, reliability, and technical innovation. CertainTeed offers a broad array of asphalt shingles in various shapes, colors and styles. The most popular are the Designer Shingles that emulate the look of wood, slate and other natural materials. Standard Shingles offer beauty, value and protection.
Some facts about CertainTeed:
First founded in 1904, as General Roofing manufacturing, it is one of the oldest companies manufacturing Shingles in USA.
In 1917 , every fifth roll of asphalt roofing was manufactured by CertainTeed.
In 1939 first company to design, market Overlay shingle (Woodtek).
In 1959, annual sales of US$ 100 million.
First designed and marketed laminated, super premium shingles.
Attained #1 product rating in consumer reports ranking for 6 out of 13 product categories.
In 2003 built the world's largest roofing plant at Shakopee, USA.
Now shingles are available in India offering architects and designers flexibility in design, wider choice of colour shades and shapes. M/s Grind well Norton Ltd., Bangalore (a Saint-Gobain Company) is marketing CertainTeed roofing and siding products in India.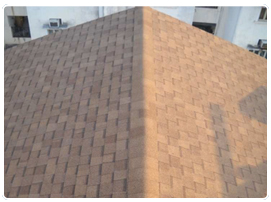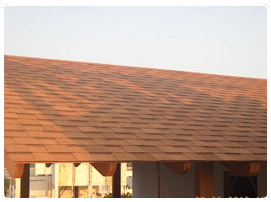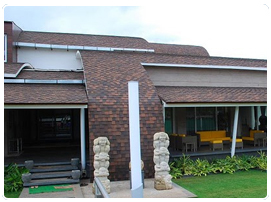 Product Description
CertainTeed Roofing shingles are Fiberglass reinforced, high grade, Mineral- stabilized asphalt based mats which are overlaid with high strength ceramic coated granules and underlayed with a mineral stabilizer cum fire-retardant
General pattern is made up of two pieces of shingles which are laminated together to form a thicker product to enhance its aesthetics and dimensional appeal. A more varied blend drop effect and shadow line is usually added to make it more aesthetically pleasing.
Advantages of Shingles
Key Advantages
Aesthetic
Waterproof
Unbreakable
Zero maintenance
Algae resistance
Warranty
Description of Benefits
Very durable, in comparison with other alternative roofing products.
Light in weight – Hence easy to handle.
Flexible – Aids easy installation.
Zero Water Absorption
Availability of Wide range of colours and variety of patterns.
Can be folded at hips and ridges. Need not be pre-cut.
Wind resistant, impact proof, fire proof and can withstand – 40 to +100 degree centigrate temperature
Can be applied even on very steep slopes ranging from 15 to 90 degrees.
Overlap of more than 50%. This ensures complete waterproofing.
Versatility of the product. Can be applied both on wooden and concrete decks.
Comply with ASTM D 3462 for tear resistance (1700 Grams minimum)
Confirm to ASTM E108 , Class A fire resistance
Certified by Underwriters Laboratories Inc.
Design & Patterns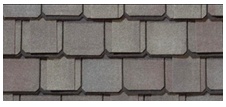 Encore
Carriage House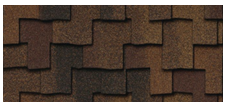 Presidential Shake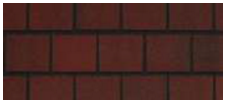 Hatteras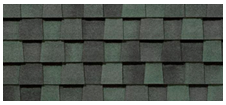 Landmark Pro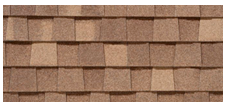 Landmark AR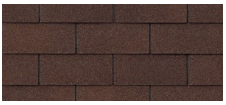 XT 25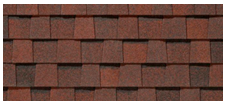 Firehalt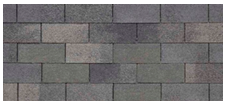 Firescreen