Vinyl Sidings are external wall-cladding products. They are the most popular cladding material in North America and now are available in India too. It is being increasingly preferred across the globe, for their many technical advantages and superior aesthetic appeal.
Sidings are Poly Vinyl Chloride (PVC) materials to which several processing aids have been added to enhance their performance. They come in the form of panels. Each panel is 8 inchesx12 feet long.
They can be conveniently installed onto a vertical surface-RCC/wood/fiber cement board/gyp-board etc.
Please scroll down for detailed Product Description, Advantages, Available Designs and Patterns and Application Procedures.
Product Description
Siding is a cladding material which is mounted onto a vertical wall surface generally with the help of anticorrosive fasteners.
First introduced in 1960s
Rapid popularity in US & Canada in last 4 decades
No. 1 choice amongst homemakers for external cladding; twice more than other materials
Entire range of accessories available
Vinyl Sidings – Composition
PVC (Poly Vinyl Chloride)

Forms the bulk of composition (Almost 80%)
Thermoplastic in nature

Micro Ingredients – Pigment,TiO2, Calcium Sterate

Pigments or colours are added to enhance appearance
TiO2 (Titanium di oxide) is added to prevent UV degradation
Calcium stearate aids in uniform blending of PVC compound and produce a uniform finish to resist cracking

Processing aids – Waxes, Impact Modifiers, Acrylic Processing aids, Stabilizers

Waxes – To prevent adhesshion of PVC resin to extruders and impart gloss
Impact modifiers – To impart strength and robustness
Acrylic Processing aids – Improves Durability and consistency
Stabilizers – Prevents degrading of PVC during manufacturing process (Heating and high pressure)
Components of a typical house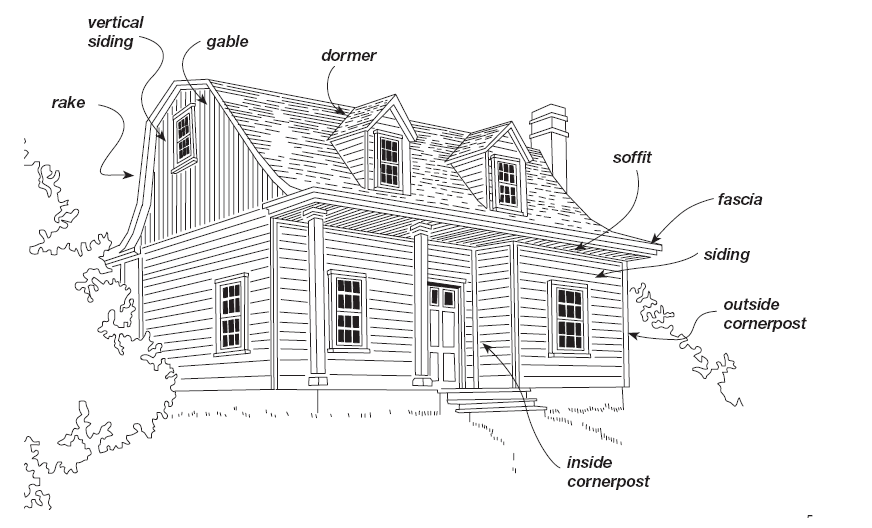 Typical Siding components
List of commonly used accessories
Starter Strip:
Secures the first course of sidings to the home.

Corner Post:
Used where Sidings meet Outside / Inside Corner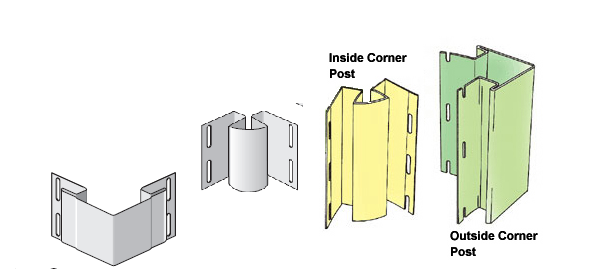 J-Chanel:
Used as Universal Sidings receiving channel for use around utility openings, under eaves etc.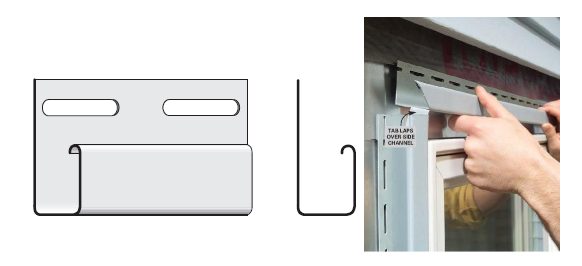 Undersill Trim:
Helps secure trimmed Siding panels under windows and eaves.
Advantages of Sidings
Key Advantages
Aesthetics
Waterproof
Lifetime Fade protection
Zero maintenance
Choice of multiple colors
Does not peel, flake, rust, rot
Rated No. 1 brand by Building Professionals in USA
Colour does not fade
Does not peel off, flake or crack
Scratches do not show
Resists denting from day to day occurrences
Installation Proficiency
Installation Proficiency Patented STUD finder™, ensures accurate & secure installation
Patented secure intra panel interlock
Made to fit accessory range
Light in weight and Flexibility – Aids easy handling/ transportation and fast application
Incurs less damage at work site hence less wastage
Added Advantages
Withstands wind load pressure of 135 mph
Class 1 (A) fire rating
Does not conduct heat or cold
Does not magnify sound of rain or hail
Design & Patterns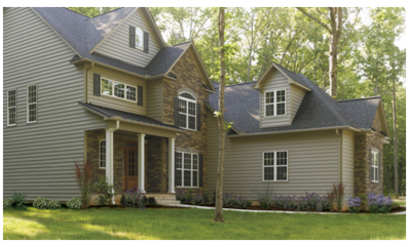 Encore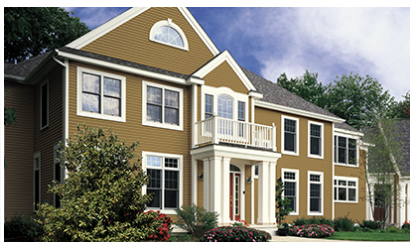 Restoration Classic
Monogram
Cedar Impressions
Application Procedures
Application Procedure for Vinyl Sidings
Wall surface preparation
– The surface should be leveled to plumb. It should be completely and free from undulations, loose debris etc.
Application of aluminum battens
– Aluminum channels (1'x1' for walls and 3'x1'for corners) have to be fixed vertically, spaced at 16″ center to center.
Application of Corner Posts
– Outside and inside corner posts, is to be fixed respectively, at all the corner junctions. Only the prescribed corrosion-resistant nails (Special Head size of 8mm – 9mm and 1" long), by the manufacturer are to be used for the application.
Application of Starter Course
– The starter course is to be horizontally fixed at the bottom of the wall (a min gap of 1/4″ from the ground is to be left).
Application of Siding Panels
– Vinyl sidings panels of the selected design, type and color shall be fixed on to the channels. The application starts at the base of the wall at the starter level and goes on to the soffit of the roof. The nails have to be driven at the center of the nailing slots to accommodate temperature movements.
Application of Accessories at junctions and openings
– J channels and other finishing accessories shall be applied to properly terminate sidings at all junctions and openings to receive the sidings.
Basic Tools Required
Snap Lock Punch:

A snap lock punch is used to punch lugs in the cut edges of siding to be used for the top or finishing course at the top of the wall, or underneath a window.

Nail Hole Slot Punch:

Occasionally, it may be necessary to elongate a nail hem slot. The hole is elongated for expansion and contraction.
Contact Us
for Detailed Application procedure.